From the Associated Press: Israeli airstrikes have hit apartment buildings in a refugee camp near Gaza City for a second day in a row, causing many deaths and injuries, the Hamas-run government said. The toll from Wednesday's strikes was not immediately known.
Meanwhile, dozens of people with foreign passports entered the Rafah crossing from Gaza to Egypt. It appeared to be the first time that foreign passport holders have been allowed to leave the besieged territory since the start of the Israel-Hamas war more than three weeks ago.
Context- BBC: On October 7, Hamas, a resurrected ISIS, attacked in and near the Gaza border taking lives and hostages. Hamas is the governing body for the Palestinians. Reports from Western media are that Hamas wants to annialate Israel. On the 7th, reports were that 1400 civilians were killed and 230 soldiers and civilians were taken hostage. Of those hostages, only five have been returned; reports state Hamas uses hostages as human shields/ leverage to keep Israeli's from attacking.
Meanwhile,
More than 8,000 Palestinians in Gaza have been killed in air and artillery strikes carried out by the Israeli military in response, according to the Hamas-run health ministry in Gaza. Israeli troops have also massed along the Gaza boundary and Palestinians are bracing themselves for a major ground operation. Israel has also cut off electricity and most water and stopped imports of food and medicine, although it has allowed in several dozen aid lorries through Egypt's Rafah crossing since Saturday.
1,400
Number of people killed in Israel
8,525
Number of Palestinians killed in Gaza
125
Number of Palestinians killed in West Bank
5,431
Number of Israelis injured
21,543
Number of Palestinians injured in Gaza
2,050
Number of Palestinians injured in the West Bank
250,000
Number of Israelis displaced
Over 1.4 million
Number of Palestinians displaced in Gaza
240
Soldiers and civilians being held hostage in Gaza
5
217
Aid trucks let into Gaza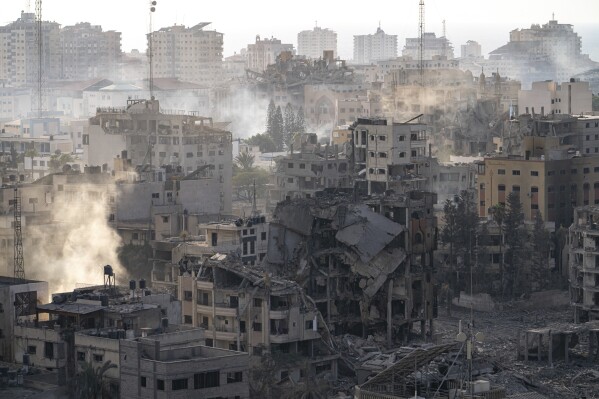 33,960
Residential units destroyed in Gaza
___
Sources: Associated Press reports, Gaza Health Ministry, Israeli military, U.N. Office for the Coordination of Humanitarian Affairs, Palestinian Red Crescent
ICYMI: from the new Speaker of the Boneyard. . . .I mean House…..